Tuesday January 24 2006
As we come to the end of January, beginning our third month here, God is redefining "cold" for the Colkers. We have been below zero Fahrenheit for over a week. This morning it was 3ºF and Pam commented it was a heat wave! The temp at night has been staying in negative double digits and with the wind chill factored in it has been -21ºF. I can't remember any of us experiencing temps even approaching zero. We have heard this week of many deaths and the hospitals are full of frost bite victims. My thoughts keep returning to the Gypsies with whom I visited in Sabatano (western Ukraine) this summer. They have no heat, and many of their homes are inadequate to shelter them from the cold. The end of winter is still far off so I ask that you remember those
Gypsies
and the others here less prepared for this phenomenal cold. I pray God will provide His warmth and protection to them all.
Here are pictures of our apartment that has become an igloo of sorts. All the windows are completely frozen and iced over. We have not been able to see outside for some time now. It has created the most beautiful crystal patterns that we all enjoy. To give you an idea of how cold it gets inside even with heat here is a picture of frost formed in the corners of our interior walls (something we couldn't get to form in our old refrigerator).
Frozen frost covered windows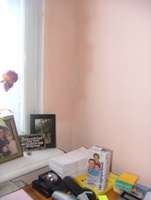 Frost on the walls
Hannah thinks it's very cold!
Before the "real" winter we had been warned about arrived, we were able to attend a Ukrainian Christmas celebration at Independence Square on January 6th. First I took Emily and Jennie early in the day to see the decorations and ride horses in the Square for 10 ghrevna ($2 US) each. What a deal! Then we went back home and I took Greg and Steven to the square. Their first stop was milkshakes at Baskin Robins. Then into the Square where we got to see many performances on the stage and Steven got to handle Falcons (he loves birds of prey). It was a wonderful opportunity to experience this part of Ukrainian culture.
Greg and Steven having Shakes
Steven with a Falcon
Christmas celebration in Independence Square
During the holiday I was asked to be a guest on a business program on a Ukrainian radio station. It was a fun experience and I was even able squeeze in a mention of the Holy Spirit as a guide for business. Having been in radio stations before, I was surprised to see the office like setting for the studio. Anya interviewed me while we sat comfortably on couches with headsets.
Being interviewed by Anya on Ukrainian radio
Back at home, everyone continues to adjust amazingly well. Again, all praise goes to God for preparing not only Pam and me, but the children's hearts for our new lives. Given the reduction of toys, space and books, everyone is making the most of everything.
Sarah & Elizabeth and Grace & Steven share space
Mommy becomes a bus
Buckets become hats…
...and sunflower seeds become art
Just before the Ukrainian Christmas we celebrated New Years with fireworks exploding over Kiev all night long and far into the early morning hours. The fireworks are much more powerful than the ones we are used to back home. The kids celebrated in freezing temperatures with sparklers. I must say with our traditional Christmas, New Years and the Ukrainian Christmas the holidays seemed to last forever! They were a wonderful new experience, but I think we were all ready to get back to our normal routines.
Ali celebrating New Years!
Emily sewing
Sarah bundled for the cold
We continue with our Russian lessons three times a week. The children are progressing and are moving thru the complexities of verb conjugation which has literally brought Pam and me to our knees (in prayer). We know that our ministries will never reach their potential unless we can communicate the Gospel completely in actions and in words. We have had several instances on our own where we have felt led by the Spirit to reach out to people in need on the street. We offered what we could in the way of help but would find ourselves strangled by an inability to verbally share the love that motivated our actions and to tell about the awesome God that we serve. Although I don't doubt that they got the point even without verbal communication, because God speaks directly to the heart.
Each week we spread out into more areas of ministry with different organizations serving widows, orphans, abandoned babies as well as Greg's work with street kids and youth through YWAM's Key of Hope ministry. We actually have somewhat of a regular weekly schedule though we are learning to live by the YWAM code "Blessed are the flexible, for they shall not be bent out of shape!"
We were blessed by financial gifts from two new supporters for the purchase of a dryer and refrigerator. God amazed us by miraculously opening up new wells and showing us that He can pour out blessings and provision from sources never before revealed. We praise Him for not limiting Himself to our meager understanding of His power.
We ask for your prayers regarding our home in Atlanta. We are still praying for a renter as we approach our financial deadline. We hope that it is not Gods will that we would have to sell our home, but pray that His will, not ours, be done in the matter. In addition, please pray that we have a clear leading regarding our service with existing ministries here. With such overwhelming need, we pray that we will serve exactly where God needs us the most. We continue to be amazed by His faithfulness, protection and provision for this mission. We are always so very grateful for the many prayers and for the financial gifts that support us in this work.
I leave you with this photo of Paul and Grace, our 16 month old twins. We never want to forget the many blessings he has given to all of us! Thank you Father for your blessings!
Paul & Grace
Be sure to visit the web site
www.ColkerFamily.org
to view the latest in news, needs and photos. We have recently posted a change to our shipping address. Also, Greg has begun his own Blog:
SowWhat?
to keep everyone up on his doings.
May God bless you in the New Year,
The Colker's ><>
Jeff, Pam, Greg, Steven, Emily, Jennie, Alison, Hannah, Elizabeth, Sarah, Paul & Grace
Wednesday January 18 2006
Yesterday was great. I was able to go to an orphanage with my dad. There were 4 other missionaries from the YWAM base who came with us. The orphanage was an hour outside of Keiv in the middle of nowhere. The ages of the orphans were 1 to 17. We were with the younger ones (1-12). The orphanage was freezing cold and the orphans were poorly dressed and under nourished. We spent an hour with them, first we played a game then we did a teaching. After the teaching we gave the kids oranges and played with them. The orphans are attention starved and like lots of hugging and touching.

Since it was my first time there the orphans were shy but by the time we left I had one little girl around my neck. Her name is Nadia and we guessed she is about 6 years old. I used what little Russian I know to talk to her. My dad and I hope to go return to this orphanage with the rest of the team every Tuesday.

This week is going to be COLD. On Saturday it will be -15 degrees and right now it is 20 degrees, and snowing.

Last week I got my first haircut here because my hair was getting long. The barber did a great job and my haircut looks exactly like it did at Great Clips in Atlanta. The one thing Greg and I hated was instead of using that electric razor to get that little fuzz on the back of your neck she used a straight razor, and I have my war wounds to prove it. Other than the straight razor everything is fine here. Please keep those orphans in your prayers.

In Christ,
Steven