Friday December 30 2005
"No chocolate chips, no vanilla extract, no Shortening… this should be fun!"
"I pray this is brown sugar."
"Mommy! The eggs have poop on them!"
"Pray, girls."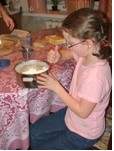 "Does the color look right to you?"
Making Ukrainian chocolate chips.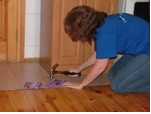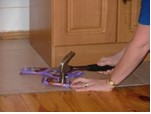 "Obviously we need a Hammer in the recipe!"
Cooling the dough in the bathroom because it's colder the the refrigerator!
"Mommy you may want to see this..."
A watched cookie never bakes!
Our Ukrainian cooling rack.
The result: a "Ukrainian Dozen"… eleven cookies!
Actually, the cookies missing several of the recipe ingredients, using creative substitutions, baked in an oven the size of a shoebox, with two temps on and off and no clue what the temp is (we estimate around 1200°F), turned out great. It just goes to show what you can do with prayer in the recipe!
Commit to the Lord whatever you do, and your plans will succeed. Poverbs16:3
Thursday December 15 2005
Here we are nearing the end of our first month and preparing our hearts for the celebration of a very different Christmas. We wanted to share some news and pictures of our unbelievable month. It is very cold with snow almost daily and the days are getting shorter. The sunrise is around 7:00am and the sun sets around 4:00pm. But He is keeping us warm in our new home.
Here's breakfast hour for the six smallest:
Things are going much better than we could have wished for or anticipated. God continues to pour out His blessings and affirms His calling on us as we continue to seek Him and obey. We have a nice four room apartment with a living area until April 20th, no one is...
Continue reading the rest of this post...