Thursday July 28 2005
Internet options have been very limited the past several weeks. At best I have short connections on extremely slow dial-up lines. Sending photos and other attachments has not been easy for quite some time. In addition, I have been busy with a very full schedule. I left Ternopil with Natalia for Kiev and the next portion of my outreach. I was blessed by the efforts of many of the base staff in Kiev who provided me with a broad introduction to several of the ministries of the base. My time in Kiev began with a very pleasant surprise… I would be staying on the newly acquired Venezia.
The Venezia is a floating hotel, restaurant, bar, disco on the Rusanivska Strait off the Dnipro River. It is obvious that for many years the Venezia was a popular destination for tourist and locals alike. YWAM Kiev was able to purchase her at the beginning of this year and have begun extensive renovations. (Needless to say, the bar and disco are no longer functioning in their original capacity, however the mirrored disco ball still remains, should the need every arise!) The restaurant kitchen is capable of providing the large meals frequently required for the many schools and visiting outreaches to YWAM Kiev. Much to my surprise...
Continue reading the rest of this post...
Thursday July 07 2005
I left Ternopil with the YWAM team of translators at 2:00am for a 6 hour train ride to Mukachevo. The train car consisted of row upon row of open berths each with smelly feet protruding. It was hot, muggy and the air stagnant and thick. The team kept telling me how lucky we were to get a "nice" train car. Seems there is worse, though I can't imagine in what way. Upon our arrival in Mukachevo, we were able to spend a short time with Sergei and Luda and their 10 month old son, Daniel. They are YWAM staff from Ternopil living here and ministering to the Gypsy villages in western Ukraine. What a wonderful couple, giving so very much for His Kingdom. They were so kind and hospitable. They even let me take a quick hot shower (little did I know it would be my last for a very long time!) Later that day the bus arrived with nearly sixty Swedish students eager for their missionary outreach experience. We divided into six teams and boarded vans bound for Gypsy villages scattered throughout western Ukraine.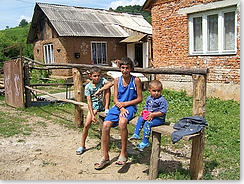 Our team consisted of Natalia (my ever faithful translator), Victor and Magnus (staff of YWAM Reston, Sweden) and students Linda, Veronica, Henrietta, Benjamin, Linnea, and Lina. We were on our way to Sabatano (later we found this was the poorest and most difficult village where teams were sent) to minister to the Gypsies.
Sabatano was unbelievable in so many ways. I can express neither what I felt, nor the work God did on my own heart during my time there. God revealed so much to me about the difficulties and problems associated with ministry to the Gypsies. There is not just the obvious poverty, but spiritual...
Continue reading the rest of this post...