Summer Is In Full Swing
Monday July 17 2006
Summertime brings a new pace to ministry in Ukraine. When summer break began for the public schools, the English teaching club took a hiatus. The orphanage we have been visiting weekly sent the kids to Spain to spend several weeks in a facility maintained by a charitable organization. Many orphanages send their children away to camp throughout the country during the summer to allow for much needed maintenance to be performed on their facility. We will be working at some of these camps this summer and will let you know about those experiences.
Another interesting aspect to summer in Kiev is the weekend when many city dwellers, like our landlords, take off for their family "farm" in a neighboring village. They spend the weekend with family and friends living a very different life than that in the big city! The village gardens are in full production with a wide variety of fruits and vegetables, and there is much harvest work to be done. Everyone in the family helps out. I so admire the desire families have to come together to work and play.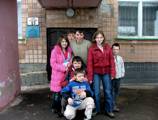 Most of the orphanages are more than fifty years old and even in their Soviet prime, they were not well constructed. They have failing heating systems, electrical wiring that would scare even the bravest electrician, and plumbing that well… Iet's just say it's really bad! The walls are often crumbling and appear to be supported only by dozens of coats of what I imagine is heavy lead based paint. I could go on, but I think you get the picture.

CHURCH PLANTING
In May we had a visit from a dear friend who is an elder of a church in Chattanooga, TN. Both our friend and his church have been a huge blessing to our mission. Paul came with a desire to see some of our ministries and to build on a relationship we started with a Korean fellowship here. What an amazing visit. In addition to our plans, God had His own. We ended up in the village of Alexandria about two and a half hours outside Kiev. The village has a large population of Korean/Ukrainian families. One of our meetings was with a group of men who took a break from working in the fields to discuss planting a church in their village.


Currently they have no Protestant church in which to worship and there is no evangelism or discipleship. Before we left the village one family invited us to their home for a unique Korean Feast with a Ukrainian twist. They so blessed us! We are all praying that the new relationships that began will bring about a new ministry and church for this village. There is now a new partnership between the fellowship in Chattanooga and the workers here that only God could have orchestrated. Please pray for this new church which is so very badly needed. Our first visit from a friend and supporter back home taught us how powerful, uplifting and encouraging to us a visit can be.

BIRTHDAYS
We celebrated four birthdays recently including Greg's 17th, Sarah and Elizabeth's 3rd and Pam's. We even learned that wood matches can be substituted for candles if you can't find candles at the market.


MEDICAL/DENTAL OUTREACH
June brought us a short-term medical mission's team from Lebanon, Pennsylvania, where I took my Discipleship Training School last year. While in Lebanon, I attended a local church where I was warmly accepted and where I met Tanya, a pediatric physical therapist. Last fall prior to leaving for Ukraine I returned to Lebanon to visit the YWAM base and the church. During my visit Tanya was moved by my experiences with children over the summer in Ukraine. I challenged her to seek God's will and pray about coming to see for herself. Wow! God was at work. This spring, I received an email saying she was coming in June and bringing her sister and a friend who are both pediatric nurses.

I began to put together a schedule including the village of Sabatano that captured my heart last year. However, as I should know by now… not my plans but His be done! Once again God had bigger plans and a bigger purpose. As the date of their arrival drew near, all my well-laid plans unraveled. Sabatano was in conflict with a team from Sweden, and my other plans evaporated. God was closing doors left and right. Oh, I though to myself "I've been here before." I knew I should just step back and let God be God. Once we got out of His way, the Great Team Missions Builder put together a nine-member Medical/Dental mission team consisting of two dental missionaries, my three visiting friends from PA, three visiting dental students from California and me. In addition, we traveled with interpreters and numerous other volunteers from the churches and villages we visited.


Our team brought medical and dental care to over 120 patients in three villages, teaching and playing with well over 100 kids, giving dental and medical instruction and consultations to numerous other kids and adults, and serving God in many other ways. The hand of God brought together the ministries of Smile Alliance International, Good Samaritan Ministries - Ukraine, and Youth With a Mission Kyiv who partnered together with local ministries connected to several churches. The amazing thing was how everyone worked together as one body, all parts working together to give glory to the Head, Jesus Christ. It was inspiring to see members from at least eight different denominations worship, pray, work and play together as brothers and sisters, often encouraging and uplifting each other in prayer, serving one another through menial tasks, releasing their own agendas to follow God's even though it meant doing things outside their comfort zones.




One of the greatest assets to our outreach was the dental truck given to YWAM Kyiv just last year by Mercy Trucks. It has spent the past year being reworked to meet Ukrainian transportation requirements and being readied for service. It was registered with the government and ready to roll just days before we began. What a blessing! A mobile dental unit, complete with all the equipment and supplies needed for our outreach.



While Dr. Richard and Dr. Ivan worked in the dental truck, fondly called "The Box", at each village we set-up a full dental hygiene area for our two dental hygienists. In one case, the building seemed to be falling down around us. Here the floor just collapsed as we tried to set-up. Needless to say, we walked softly in that facility! While the hygienists and dentists were working on teeth, the nurses kept very busy screening patients, managing the tremendous flow of people, and teaching health care and hygiene to children and parents. We took turns playing with the children, doing crafts, teaching the children, distributing Bibles and sharing God's love as He provided divine appointments.



God even stretched me into a bit of dentistry!


In those two weeks, God worked in so many ways not only in the lives of those we served, but also in the lives of the team members.

One story of our outreach I want to share is that of two Methodist Sisters serving in the village of Ivanivka. The local Orthodox priest has refused to even talk to them during the six months they have lived in the village and has forbidden people to have anything to do with them because they are Protestant. Our first morning in Ivanivka no one showed up, and it was clear the influence of the Orthodox Priest was powerful. We decided to visit the village school and after much assurance that we were not a cult, or subversives, the school director agreed to let us give hygiene and dental talks at the school the following day to the kids who were continuing in a summer program. It was very well received and we felt a small victory for God.


We were even allowed to do crafts with the kids in their classrooms. We have been invited back and a teacher from the school told me that the kids now see there are people who do care. She would even like an English club to be established in her school. Later that day several of the teachers and children came to our clinic for care. The third day when we arrived in the village there was a line formed in front of the Sisters home. Praise God! This outreach helped open many doors for the sisters. People saw what they are doing, learned more about their work and saw that the only thing the sisters brought to Ivanivka was love and a desire to help and serve the village.
It's obvious that the dental van is an amazing ministry tool. In the future it will be capable of reaching the orphanages and villages that see little in the way of dental or medical care. I believe God has huge plans for Mercy Missions and YWAM Kyiv. This is only the beginning!


NATO?
What does, a church in my home state of Georgia, a small village in western Ukraine, Pastor Paul, me and NATO (North Atlantic Treaty Organization) have in common? Nothing…I thought. However, I was given an opportunity last month to speak in a small church in a village about two hours west of Kyiv. I was very surprised when I saw this beautiful little church nestled in the middle of a dirt road village.


Pastor Paul told me a story of how a church in Georgia had purchased a prefab building from NATO, which is used for quick response structures in needed areas. He told how the building was delivered and assembled, and that the NATO team even built a steeple once they learned of the buildings purpose. Wow! Here I was preaching in a church, built by NATO, purchased by a church only miles away from our home back the states. He is an awesome God!