Happy Easter!
Saturday March 26 2005
As I come to the end of my first week, I wonder to myself, "How could I possibly share with you the amazing things I have felt and learned over the past seven days?" It would be impossible! Suffice it to say that the entire week was spent on Prayer! One week of the most wonderful and at sometimes gut wrenching teaching on this amazing gift of communications with our Creator that has been offered us. A gift I found very few (including myself) fully grasp the importance of, both to us as Christians and to our Heavenly Father.
I am required to keep a personal journal broken into three sections; Confirmations & Affirmations of what I already knew, New Ideas, and what God is saying to me and How to Apply It. I filled fifteen pages, and the section on "What I already knew" is very slim! Much of what we learned was designed to take us out of our comfort zones and to teach us the true power of Prayer. I was left broken when comparing my prayer life, to the examples given to us by Jesus and others in God's word. I experienced a whole new understanding and passion for prayer. If I had to recap in one line that hit home, it would be …
"A person's ministry is no greater than his/her prayer life!"
Today was both full of new things as well as some hurt. It was my first Easter away from Pam and the kids. And news from home is that now in addition to little Elizabeth (2), now Hannah (3) and the twins, Paul and Grace (8 months) have come down with a brutal virus. Please keep the little ones and Pam in your prayers this week as they deal with this sickness. On a happy note, I attended services with a few of the students at a "Contemporary Mennonite Church"…no kidding! The church Freedom in Christ Fellowship is in the heart of downtown in a cafe. It was great! The church is an inner-city plant from a larger suburban Mennonite Church. The praise and worship was excellent and the preacher Daniel did a wonderful job with the Easter sermon. Several homeless people attend and we stayed to pray for them. What a wonderful way to spend Easter!!!
Now, for the best part, the Students and Staff of the week. Let me start with Erna from South Africa. She has the most wonderful accent and has been serving throughout the world for a dozen years and is currently on staff here teaching Prayer and Intercession. She is a wonderful lady who has an unbelievable anointing for prayer. The stories of her experiences are so very powerful. Like so many of the current staff, God has blessed me in his choice of my teachers.
Toshi (Japan) who has completed his studies and is leaving this week and Cecille from the Philippines who just completed TESOL (Teaching English as a second language) and is returning to serve in Thailand.
Now, here are some more pictures of the YWAM Lebanon, PA base:
Here is the lobby and here I am posing by the Ukrainian flag.
Here is our classroom for CDTS and the student lounge (is this reminding any of you of your college days?)
Kitchen and Clean-up (I'm taking pictures…not helping!)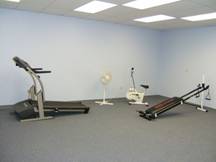 The YWAM "Fitness Club" (it's free)...
...and Laundry room (it's not!)
Our two showers! (Yes, only two) and the Phone/Internet room.
That's about all you'd want to see and probably more!
As we end this most holy of weeks, I pray blessings for you and your families. I thank God for each and every one of you as His mission in our lives would not be possible without your prayers and support!
May God bless you all! Thank you for your support!