The Ukrainian Chocolate Cookie Experiment
Friday December 30 2005
"No chocolate chips, no vanilla extract, no Shortening… this should be fun!"
"I pray this is brown sugar."
"Mommy! The eggs have poop on them!"
"Pray, girls."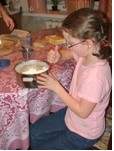 "Does the color look right to you?"
Making Ukrainian chocolate chips.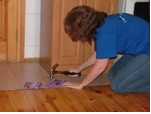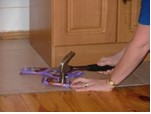 "Obviously we need a Hammer in the recipe!"
Cooling the dough in the bathroom because it's colder the the refrigerator!
"Mommy you may want to see this..."
A watched cookie never bakes!
Our Ukrainian cooling rack.
The result: a "Ukrainian Dozen"… eleven cookies!
Actually, the cookies missing several of the recipe ingredients, using creative substitutions, baked in an oven the size of a shoebox, with two temps on and off and no clue what the temp is (we estimate around 1200°F), turned out great. It just goes to show what you can do with prayer in the recipe!
Commit to the Lord whatever you do, and your plans will succeed. Poverbs16:3