Greetings from a very cold Ukraine
Thursday December 15 2005
Here we are nearing the end of our first month and preparing our hearts for the celebration of a very different Christmas. We wanted to share some news and pictures of our unbelievable month. It is very cold with snow almost daily and the days are getting shorter. The sunrise is around 7:00am and the sun sets around 4:00pm. But He is keeping us warm in our new home.
Here's breakfast hour for the six smallest: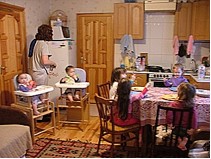 Things are going much better than we could have wished for or anticipated. God continues to pour out His blessings and affirms His calling on us as we continue to seek Him and obey. We have a nice four room apartment with a living area until April 20th, no one is ill at this time, and we are beginning to get into a routine of sorts. Specifically, Pam is adapting (or resigned) to the transportation challenges, cooking difficulties, shopping challenges and daily frustrations that life here in Ukraine brings. She is doing very well and continues to amaze me and others as she holds us all together. She is a true demonstration of the power of faith and prayer. Though regular sleep and rest are not always luxuries Ukraine has to offer. Here she grabs a nap when she can (sometimes not alone):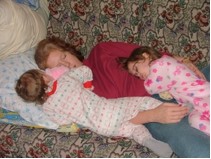 She has been venturing out on her own on the busses and Metro (subway). The later has brought some exciting adventures already.
Greg (16) is doing the best adjusting of all of us. He's even beginning to look Ukrainian:
He's grasping the language very well and is being invited several times into different ministry opportunities. He leaves tomorrow for Uzhgorod for a five day trip to and orphanage with YWAM Kyiv's "Key of Hope" Ministry. He has yet to experience a Ukrainian train ride and this his first will be 18½ hours each way! He has already been taking part in the Street Kids ministry, joining teaching in the English classes, working with the new YWAM youth group outreach program that just begun, and he and Steven have been out with Hillsong's orphanage ministry. He has taken to Ukraine and the ministries like a fish to water. Steven (13), Emily (11), Jennie (9), are loving Ukraine and adjusting well to life here, except they are struggling a bit more with the separation from specific people and their puppies back home as well as English reading material. Here they are enjoying the snow (snow is almost a daily occurrence):
They enjoy the YWAM family activities and the support of the staff here. Alison (5), Hannah (4), Elizabeth (2) and Sarah (2) are struggling with the lack of space, lack of toys, lack of familiar faces, lack of bathing with the old regularity and mostly with the food. Other than Verenicky (ravioli with chicken inside), they seem to like very little! Paul (1) and Grace (1) seem to be back to normal (healthy, sleeping and eating). We are learning by experience what foods and milks to keep out of our and their systems. As for the littlest ones, I don't think they know we have left yet! We have begun Russian lessons three days a week with a wonderful young woman who teaches us here at home. Of course the kids are doing great, learning with amazing speed while Pam then I bring up the rear!
As for me… I am grateful that all is well and that routine has replaced the chaos that ruled the day for our first weeks. I am grateful for the healing of everyone from various sicknesses. I am grateful for the prayers and help of so many. Not just YWAM, but Evangelism Explosion - Eurasia, Hillsong and Music Mission Kiev, as well as several other individuals here in Ukraine that have made us feel welcome and taken interest in our well being and have lovingly reached out to us. One sister anonymously, before leaving for her U.S. furlough arranged for a cook to prepare a dinner for us every other day for the month and deliver it to us. What a blessing! The break from even one meal a day is a huge help to Pam and allows her to focus more time on the little ones. Here I am enjoying some restful sleep: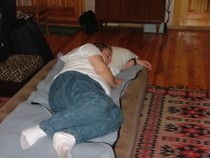 I have been able to take part in weekly base Prayer and Intercession as well as weekly Family nights with the children which has been a huge blessing in keeping us connected. I have gotten to teach English and have begun to talk with the multitude of ministries. Here I am at one of the English classes for 7-9 year olds:
Pam, Steven, Emily and Jennie are all beginning to get introduced to ministry opportunities as well and getting to take part as volunteers. Last week Pam, Steven and Emily joined a ministry for widowers. Pam was asked to address the group, and was able to see a tremendous outpouring of love and gratitude for coming to Ukraine. She was moved to tears as over sixty elderly Ukrainians welcomed her and the kids with hugs, kisses and in broken English "we love you". I have been blessed to be teaching as it gives me a great opportunity to share about the awesome God we serve. And Greg, well as I said, none of us should be surprised. We pray for direction from the Holy Spirit as to where God will place us in full time ministry as we continue in our transition phase.
Financially, things are all surprisingly more expensive here that this past summer. The rent threw us for a bit of a loop at $1000 and you can see prices on many staples changing. That being said we are amazed at the blessing of our supporters. It seems every month there is at least a couple new names added to the list. We need them all as our $3000 per month budget for Ukraine does not seem adequate to us anymore. Our home in Atlanta has not rented yet and is an additional $2000 per month drain that is depleting the reserve we set up from a wonderful gift we received before we left. We pray for a contract with a renter in January as our reserve will be depleted by the end of February. In addition, we pray that the agreed upon rent gets us as close as possible to the monthly debt so that the difference that will come from our living budget is as minimal as possible. We know He has a renter for us, and will bring them to us in His time. We have a specific praise… we were able to purchase one of our major needs from our needs list. We purchased a washing machine this week! It actually doubles as an entertainment unit as we have no radio or TV (not that they would do us any good in Ukrainian/Russian). Here Ali, Elizabeth and Sarah are watching a load in the bathroom and a picture of clothes drying 'Ukrainian winter' style:
Next on the list are a dryer and a refrigerator as the refridge we have is older than me and does not freeze. It does not get very cold and we dare not let food stay more that a couple days. We know by His promise that He will provide whatever he knows we need and are faithful as every in His provision.
Not a day passes that I don't sit back in awe of the God we serve as I recount the events that started only 10 months ago! We are all very grateful to be here and to be called to serve. So, as we approach our second month we are doing well and continue to be blessed – one and all! Thank you for the loving support and caring. We look forward to our first Christmas here. We even have a western style Christmas tree:
We pray for all of you during this special time of remembrance of the birth of our Savior.