Ending With A Bang! (Part 1)
Sunday December 31 2006
Thanks to the blessing of a warmer start to winter this year and few snow days, we were able squeeze in outreaches when at the same time last year, ministries were brought to a standstill by the weather.
Komarivka Orphanage
Three hours northeast of Kyiv lies the small village of Komarivka. Roughly translated it means "Mosquito Village." Fortunately for us it was winter and we didn't have to deal with the bugs! The orphanage houses approximately 130 children from the ages of 6 to 17 years. At first glance it looks like all the other orphanages we've been in, however upon closer inspection, there are signs of attention and care, a rarity on Ukrainian orphanages. In fact, a beautiful play set complete with bridge stands proudly in the yard.
Although the original outhouse (disgusting even by my new lower standards) is still in use, it is augmented by a new, modern, bright and clean bathroom. And in one of the buildings there is an almost completed full modern kitchen. It's a replica of what you would see in a new Kyiv apartment. New appliances, beautiful cabinets, even the latest in cookware are planned. It will be used to teach life skills to the older orphans. What sets this orphanage apart from all the dismal ones we have visited and worked in? The loving commitment of three American missionary families. They joined together and "adopted" this orphanage as an ongoing ministry. They have been working over the years improving conditions, developing the all-important "director relationship" and sharing the gospel through teaching and their living example. Unlike the traditional "hit-and-run" approach to orphanage work, these families have made an ongoing commitment to bring the Gospel to the children who will spend their most impressionable years in this facility.


What a testimony of God's love lived out for all to see. The families have focused resources and even brought teams to work on the facility and bring teachings to the children. While we were there I sat in on conversations with the director about upcoming teams and projects including a new "nurses house" (infirmary) and a new shower room.

The outreach was a Mercy Truck operation so we were there with the dental van and Dr. Richard and our newest member Dr. Ina (a true gift from God!) performed some seriously needed dentistry.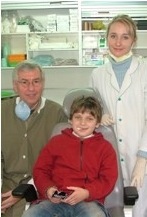 In keeping with our vision, we brought an additional ministry team doing crafts, teaching and songs. We also were blessed to have the Key of Hope (KoH) team from YWAM join us. The KoH team did two evangelistic programs, puppetry, English teaching and hair care…


Yes, HAIR CARE! A traveling stylist complete with all the tools of the trade, Yulia is the newest addition to KoH team. I lived with her, her husband Alex and their two children a year and a half ago in Lutsk while on my DTS Outreach. They have since done their own DTS with YWAM and joined the Kyiv base as full time missionaries. Yulia so blessed the children of Komarivka by offering the latest in styling. It was amazing to see the transformation new "do's" and in self-esteem once she was finished.


What an unexpected gift Yulia has to share with the children! She is a wonderful model and testimony to the young girls. God surprised us with another blessing in the form of two babushka's. They are member's of a church in a nearby city and had heard about the work in the orphanage and wanted to join us. So for one day we had two unexpected new team members. The question for me was how to use these two "surprises"? God of course was way ahead of us… before I knew it, these two Christian ladies had gotten thread and needles and were hand stitching away repairing winter coats right off the backs of the kids. What a beautiful thing to see them being living witnesses.


Not westerners, but Ukrainians serving Ukrainian orphans! Oh if God would raise up the Christians in this country to have a heart for serving in these orphanages out of no other motivation or reward but love. Though we were able to see many children, it is obvious that it will require many more visits to work through all the children, not to mention there are always new children arriving.


We look forward to returning as soon as we can to continue the work. We thank God for the opportunity to serve in Komarivka and be seed planters for His harvest here. Also, I praise God for the three families and their example not only in Komarivka, but also to the rest of us serving orphanages. May the Lord continue to bless them and their work.